Estimated reading time:
1 min
At Oliver's we have a wide variety of customizable stationary available to help you honour and celebrate your loved one's life and their individual personality.
Memorial Cards
All of our memorial cards are custom designed by one of our experienced graphic designers. Our staff will guide you through the process of choosing photos and what information will be included in the card. A template is included at the bottom of this page to help you get started. For a list of available card sizes, please email printing@oliversfuneralhome.com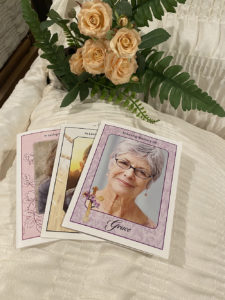 Bookmarks
A bookmark with your loved one's photo and obituary on it make a beautiful keepsake to be cherished for years to come. A variety of pre-made styles are available, or we can custom create a bookmark for you.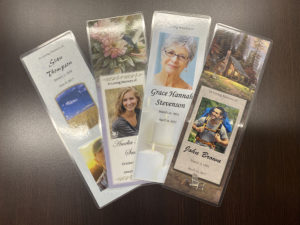 Guestbooks
With the heighted emotions that come with a funeral, it can be difficult to remember who all attended. A guestbook is a beautiful record of all who came to give their respects to your loved one. A variety of styles are available to chose from.
Candles
Lighting a candle in memory of your loved one is a beautiful way to honour them on special occasions. A wide selection of themes are available, or our experienced graphic designer can customize one for you.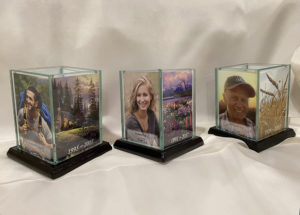 Thank You Cards
Thank you cards that match the theme of the memorial card and include a photo of your loved one add a personal touch when reaching out to thank those who supported you during this difficult time.