Estimated reading time:
2 min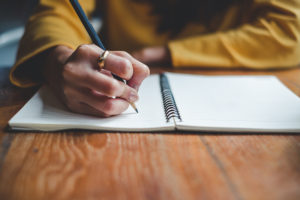 What Is An Obituary?
An obituary serves as a notification that an individual has passed away and provides information on any services that are scheduled to take place. It also provides a history of the deceased's life and can be a tribute to the life they lived. People often save obituaries as remembrances of someone they loved. We can help you make sure that the final product is something worthy of a scrapbook and your loved one's memory.
Where Do You Post An Obituary?
Obituaries may be posted on Oliver's website and Facebook Page, EverythingGP, and any newspapers the family requests.
How To Submit An Obituary?
Obituaries can either be dropped off at the funeral home, or emailed to printing@oliversfuneralhome.com. One of our staff will assist with any final touches, posting the obituary online, and sending it to any requested newspapers. To avoid any mistakes, please type rather than write the draft out by hand. If you are typing the obituary, please provide Oliver's with a saved copy on either a USB Drive or e-mail us a copy.
What Should You Include In An Obituary?
Announcement of Passing
It is important to state the deceased's full name, along with their dates of birth and death. We encourage you to place a photograph of your loved one in the obituary along with the text.
Biographical Information
Recount, in a concise manner, the significant events in the life of the deceased. This may include the schools he or she attended and any degrees attained as well as their vocations or interests.
Survivors and Predeceased Information
It is customary to list family members who have survived the deceased, as well as immediate family members who predeceased him or her, including:
Parents
Spouse/partner
Children (with their spouses'/partners' names also noted in brackets, if applicable)
Adopted children
Stepchildren
Siblings
Step-siblings
Grandchildren
Surviving in-laws
These surviving relatives should be listed by name. Other relatives need not be mentioned by name but may be referenced in terms of their relationship to the deceased: for example, the obituary may say that the deceased leaves behind five grandchildren, seven nieces, etc.
Scheduled Services
Provide details of the scheduled services, including the time, date, and address. These may include the funeral, visitations, burial, and memorial service as applicable. You can also mention if the service is private, or if no service will be held, so that people know not to expect a public service.
Memorial Donations
Give the name and mailing address of a foundation or society to which you wish to direct any memorial donations made in honour of your loved one. The decision as to which foundation or society to support may be based upon interests or values that your loved one expressed during life or related to a medical condition which he or she had.
We have included an obituary template below to help you get started. Please give us a call if you have any questions. 780-532-2929