After the loss of a loved one, the season of light and song can be touched with a bittersweet sadness. How do you handle the various celebrations and events? How do you include the person you have lost in your celebration?
Surviving The Holiday's While Grieving is a helpful, encouraging, online seminar for people facing the holidays after a loved one's death.
Our Christmas Candlelight Service takes time to remember those we have lost and honour them during the Christmas season.
Surviving The Holidays While Grieving
Wednesday, November 17, 2021 at 6:30pm, Online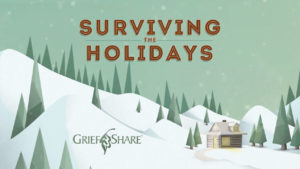 The seminar features video interviews with counselors, grief experts, and other people who have experienced the holidays after their loved one's death and who offer practical suggestions and reassurance.
These people share honestly about:
Being prepared for surprising emotions that may hit over the holidays
What to do about traditions and other coming changes
How to handle holiday parties and invitations
How to survive potentially awkward moments with other people
Where to find comfort, strength, and hope in a seemingly hopeless time
Those who attend will receive a Survival Guide filled with practical tips, encouraging words, journaling ideas, and exercises for daily help through the holiday season.
To register, visit https://www.oliversfuneralhome.com/surviving-the-holidays/
Christmas Candlelight Service
Sunday, December 5, 2021 at 7:00pm, Online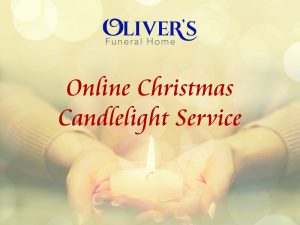 The lighting of candles and singing of carols has long been a powerful symbol of remembrance. Each year, Oliver's Funeral Home hosts a Christmas Candlelight service to remember those we have lost and honour their memory.
This service will include:
A memorial tribute video
Lighting of candles for those we have lost
Special music numbers
A message of hope
It is our hope that this simple, time-honoured gesture may provide a way of healing the past and bringing music back into your hearts.
This year, our service will be online in order to keep everyone safe while allowing for as many people to participate as possible. To have your loved one included in the video tribute, please register by Friday, November 26, 2021, by 4:00 pm.
To register, visit www.oliversfuneralhome.com/candlelight or call 780.532.2929.
To view the service, visit www.oliversfuneralhome.com/candlelight on Sunday, December 5 at 7:00pm.
We sincerely hope you are able to join us.